Assured Quality and Reliability
UNITAC brazed drill heads get top share in drilling tube sheets for electric generation plants or chemical plants where there is no margin for error.
(according to our statistics)

One standard tube sheet can contain from 10,000 to 30,000 holes. Not one imperfect hole is permitted. This number of holes is a significant challenge because they must be consistent and accurate. The material is usually inconel or high resistant nickel alloy with a low carbon steel cladding.
Top technology of energy industry available for all industries
UNITAC has put various technical innovations into our brazed drill heads to answer the strict quality and productivity demands from the energy industry. This advanced technology has been incorporated into all our products, allowing us to improve the productivity and quality in every deep hole drilling application.
All UNITAC products delivered to you offer this reliability which has been validated by the performance in the energy industry.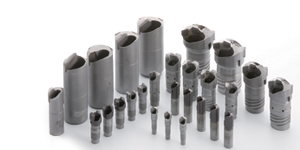 Products Lineup
Products by Type
Products by Industries